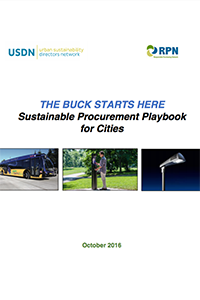 The Buck Starts Here: Sustainable Procurement Playbook for Cities - Oct 2016
The Buck Starts Here: Sustainable Procurement Playbook for Cities, developed by RPN for the Urban Sustainability Directors' Network (USDN), is aimed at sustainability directors and city teams interested in launching or strengthening their sustainable purchasing efforts. The Playbook addresses sustainable procurement in general and takes an in-depth look at three product categories: fleets, electronics, and green building supplies.
Throughout the Playbook, you will find:
Examples of best practices by project participants and other USDN members.
Model language for sustainable procurement policies.
Guidance for designing and implementing a high-functioning and practical sustainable procurement program that addresses issues such as staff roles and responsibilities, communication methods and training.
A customizable Sustainable Procurement Prioritization Tool to help cities focus their sustainable procurement efforts on product and service categories that can yield significant environmental, health and economic benefits.
Recommended procurement guidance for several high-impact product and service categories that were identified by USDN members using the Sustainable Procurement Prioritization Tool (including bid specifications, vendor survey questions, and bid evaluation procedures).
Environmental benefit calculators as well as other tools and strategies for tracking and reporting sustainable procurement actions and benefits such as energy and water conservation, greenhouse gas reductions, waste prevention, and cost savings.
Download the Playbook here.
Download the Sustainable Purchasing Policy template here.