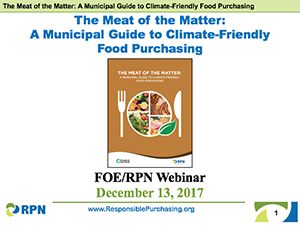 RPN/FOE Webinar: The Meat of the Matter: A Municipal Guide to Climate-Friendly Food Purchasing - December 13, 2017
Cities and counties can fight climate change by offering less meat and more plant-based meals in their institutional food service operations. Municipalities that already made this change have experienced a triple win: promoting health, protecting the planet, and saving money. This webinar highlights recommendations from The Meat of the Matter: A Municipal Guide to Climate-Friendly Food Purchasing, a new resource developed by Friends of the Earth and RPN.
This webinar covers:
Compelling environmental, health, and financial benefits of transitioning institutional purchasing towards more plant-based foods;


How to develop a climate-friendly food procurement policy and standards; and


How to design an implementation plan, conduct staff training, update bid solicitation language, and track progress.

Panelists:
Chloe Waterman, Senior Food Campaigner, Friends of the Earth


Alicia Culver, Executive Director, Responsible Purchasing Network


Naomi Billups, Public Health Nutrition Manager, San Diego County, CA


Steve Cohen, Manager, Food Policy & Programs, City of Portland, OR


Sarah Church, Sustainability Project Manager, Alameda County, CA
RPN Webinar: Local and Sustainable Food Procurement: Best Practices of Northeastern State Governments - April 9, 2014
Is your state government interested in expanding purchase of locally and sustainably farmed agricultural products? Creating markets for these products can contribute to the regional economy, preserve farmland, and support a thriving, healthy food system.
Listen in to an RPN webinar supported by the John Merck Fund that highlights best practices developed in the New England region to foster state government procurement of local and sustainable food.
This webinar covers strategies to:
Structure contracts to best encourage local offerings;


Work with vendors over time to increase local purchasing;


Support distributors that source produce from the region; and


Use policy to build greater vendor accountability.
Panelists:

Mark Curran, Black River Produce, Vermont


Mark Izeman, Natural Resources Defense Council, New York


Jane Slupecki, Department of Agriculture, State of Connecticut


Sarah Church, Research Analyst, RPN (moderator)
RPN Webinar: Sustainability in a Cup: Institutional Procurement of Fair Trade - Oct 17, 2013
Is your jurisdiction or organization looking for sustainable products that are not only designed to protect the environment but are also produced in ways that provide fair wages and working conditions? This webinar highlights two fair trade purchasing guides that can help you fulfill your commitment to sustainability by sourcing products that are fair trade-certified by third party organizations. In partnership with Fair Trade Campaigns, RPN produced two guides tailored to two different audiences: 1) cities and towns and 2) colleges and universities.
This webinar covers:
An overview of fair trade practices;


An analysis of a fair trade supply chain;


Relevant certifications and definitions;


Recommended fair trade policy language;


Model bid specifications, vendor questions, and contract language for targeted commodities and food service agreements;


Strategies for securing competitive pricing and a wide selection for fair trade goods – starting with coffee, tea, sugar, and cocoa.
Panelists:
Courtney Lang, National Organizer, Fair Trade Towns


Sarah Church, Food Policy Specialist, RPN