Environmental standards and certifications such as the following make it easy for institutions to choose high quality and environmentally preferable copy paper. The summaries below describe each recommended standard-setter, its main criteria, and how its standards are developed and verified. Also included are other related standards and labels that purchasers may encounter as they are choosing preferable copy papers.
Recommended Standards
Chlorine-free Products Association (CFPA)
The not-for-profit trade association established in 1994, Chlorine Free Products Association (CFPA), developed CFPA #102, a chain-of-custody certification standard to address bleaching processes, recycled content, and forest management. Products that meet CFPA #102 may be labeled as TCF (Totally Chlorine Free) or PCF (Processed Chlorine Free).

TCF is reserved for virgin papers. The TCF mark means

No chlorine or chlorine compounds were used in the papermaking process
The mill has no current or pending violations
The paper does not contain fiber from old growth forests
PCF is reserved for recycled-content paper. The PCF mark means


The paper contains at least 30% PCW
Any virgin fiber used in the paper is not sourced from old growth forests
No chlorine or chlorine compounds were used in the bleaching of virgin fibers or the re-bleaching of recycled fibers
The mill has no current or pending violations

CFPA audits require chain of custody documentation for all raw materials. Auditors evaluate the impact of a manufacturing process on the environment based on water and energy use, chemistry, carbon gas releases; review manufacturers' environmental policies and permit compliance; and review ethical management practices and compliance, financial performance, product stewardship, public information, funding of research and development, and employee recognition. Once the audit is complete the organization ranks the applicant using a Sustainability Index*. Only processes or products that are manufactured free of chlorine chemistry are identified with the Totally Chlorine Free (TCF) or Processed Chlorine Free (PCF) trademarks.
*CFPA's Sustainability Index addresses environmental policy and management, mill process, forestry certification, environmental risk management, product stewardship, public information, environmental compliance, and employee recognition.

EcoLogo

CM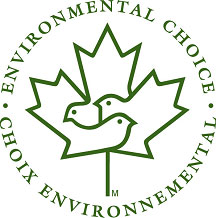 EcoLogoCM Program is a Type I ecolabelling program (as defined in ISO 14024), and is managed by TerraChoice Environmental Marketing Inc., with offices in Ottawa, Chicago and Philadelphia. EcoLogo certifies copy paper and the associated manufacturing processes under the multi-attribute standard CCD-077: Printing and Writing Paper. The standard spans the full lifecycle of the products to address sustainable forest management, air and water emissions, solid wastes, recycled content, and energy use. Copy paper that meets CCD-077 is manufactured with:


More efficient fiber use (including the use of post consumer recycled sources and alternative non-wood fibers),
Reduced chronic toxicity to aquatic species,
Reduced chemical oxygen-demanding matter in the effluent,
Increased energy efficiency,
Decreased carbon dioxide (CO2) emissions and potential for global warming,
Decreased sulfur dioxide (SO2) emissions and potential for acidification,
Reduced solid wastes sent to landfill,
No fiber from mills that produce effluent containing dioxins or furans,
Only virgin fiber from sustainably-managed forests, if containing virgin fiber, and

Off-site manufactured pulp (e.g. market pulp) and converting operations that meet all of the above requirements.

EcoLogo certification criteria documents are developed through a process that follows ISO 14024 eco-labeling standards. The open, public and transparent process ensures the participation of a broad base of stakeholders including user groups, product producers and associations, government agencies, scientists, consumer representatives, academics and environmental advocates. Stakeholder input to establish criteria and public consultation on draft criteria guide much of the development process. The process includes performing an environmental life-cycle evaluation, determining the range of current industry performance, and establishing leadership criteria that represent approximately the top 20% of the industry.
EcoLogo staff arrange for an independent third-party auditor to assess a manufacturer's documentation (including laboratory test data), product performance and production records, and to conduct an on-site manufacturing facility audit. EcoLogo only awards certification to products that pass the evaluation and audit process, and continue to meet annual monitoring criteria.
Forestry Stewardship Council



Manufacturers of products made from wood, such as copy paper, may seek certification for their products under the Forest Stewardship Council's international Chain of Custody standard. This standard verifies the source of the fibers used to make the paper, whether those fibers are recycled or sourced from FSC-certified forests. FSC Forest Management certification, for forests rather than forest products, addresses legal issues, indigenous rights, labor rights, multiple benefits, and environmental impacts surrounding forest management. For the Chain of Custody certification, wood products used to make paper are tracked and the resulting paper products may be labeled with a unique tracking number as:
FSC-pure, implying that 100% of the fiber originated in FSC-certified forests;
FSC-mixed, implying that the fiber came from a combination of FSC-certified wood, controlled wood, and recycled fiber; or
FSC-recycled, implying that 100% of the fiber came from post-consumer waste.

Supplemental standards exist for controlled wood and recycled (also called reclaimed) material.

In the development of its international accreditation standards, the Forest Stewardship Council adheres to the ISEAL Code for Good Practice in Setting Social and Environmental Standards. According to ISEAL, organizations commit to creating standards that are developed in transparent, multi-stakeholder processes; certification schemes that consumers can trust; and relevant, high level performance criteria that create genuine social and environmental change.

During the development process, the public is invited to comment on FSC standards documents directly or become involved in consultative forums. Upon completion of a standard, the document is publicly available on the FSC website.

FSC does not directly certify any forests, mills or manufacturers. It accredits national and regional forest stewardship standards and independent third-party certifying bodies. The certification bodies, like Scientific Certification Systems, assess and audit operations against the FSC-accredited standards and are authorized to issue FSC certificates.
Green Seal, Inc.

Green Seal is a non-profit, independent environmental standards-setting and certification agency headquartered in Washington, D.C. certifying the product content and manufacturing process of copy paper under its Printing and Writing Paper standard, GS-07 and Coated Printing Paper under GS-10. Both standards cover two main attributes: recycled-content and bleaching processes. Paper products that meet the certifications may be labeled with the Green Seal Certification Mark, which must be accompanied by accurate bleaching information and percentage of recycled-content.
Papers certified under GS-07 must:
contain at least 30% post-consumer waste by weight, and
be manufactured without chlorine or its derivatives.

Those certified under GS-10 must:
use coatings free of heavy metals and formaldehyde,
contain at least 10% PCW, and
be manufactured without chlorine or its derivatives.

Green Seal's environmental leadership standards are life cycle based. The standard development process follows ISO 14020/14024 standards and ANSI Essential Requirements with an open and transparent process to interested parties such as users, producers, and general interest groups. The process includes an environmental and health evaluation, and if necessary, Green Seal will conduct its own life cycle research following ISO 14040/14044, to fully assess the impacts of product or service. Green Seal provides information throughout the standard development process on its website, along with all issued standards, for public access.

Evaluation of products to be certified to Green Seal standards is done by its technical staff and external auditors and includes a comprehensive review of the product components, supporting data, product performance, and an on-site audit to ensure it meets all the criteria in the standard. The certification also includes annual monitoring to ensure continued compliance.
Other Standards
Leadership in Energy and Environmental Design (LEED) Rating System

The USGBC awards buildings LEED certification at the Certified, Silver, Gold, and Platinum levels, based on the number of credits earned in a variety of categories such as Energy and Atmosphere (EA), Indoor Environmental Quality (IEQ), and Materials and Resources (MR). Any given building seeking LEED certification can earn credits in the MR category by recycling paper and/or purchasing FSC-certified paper. For instance, in LEED for Existing Buildings (LEED-EB), paper purchases that contain at least 10% PCW content or purchases that consist at least 50% FSC-certified papers may count toward MR Credits 1.1-1.3: Sustainable Purchasing: Ongoing Consumables.

Program for the Endorsement of Forest Certification (PEFC)
The Program for the Endorsement of Forest Certification (PEFC) is a global accreditor of forest management schemes that competes directly against FSC. It is a non-profit, non-governmental organization that endorses and accredit forest certification schemes, like SFI and those developed by national governments. These schemes provide chain of custody and sustainable forestry management certification against standards endorsed by the PEFC. Governments from around the world use the PEFC standard and the PEFC independent third party certification process to promote sustainable forest management, though it is best to specify for standards and labels that have specific social and environmental criteria, such as those from FSC, Green Seal, and EcoLogo. Currently the PEFC has a membership of 25 independent national forest certification systems accounting for more than 200 million hectares of certified forests producing timber.

The PEFC standard is developed and implemented by the PEFC Council. Each member country endorsed by the PEFC is represented on the PEFC council as a National Governing Body (NGB). The NGB allows for all interested parties in the member country to be considered when developing national forest certification schemes. Certification criteria must be developed in an open and transparent process that is reviewed every five years in order to incorporate new scientific knowledge.
State Agency Buy Recycled Campaign (SABRAC)


The California Integrated Waste Management Board administers SABRC and designates products under the standards set forth by California's
Public Contract Code 12200
. The program calls for all State agencies to purchase recycled paper products, where they are available at the same or less cost than non-recycled products. The paper, including, but not limited to copy, computer, and newsprint products must have a minimum 30 percent postconsumer content, per
Public Contract Code section 12209(b)
. Agencies must also spend, in regards to all writing and printing paper, at least 50 percent of the total dollar amount on recycled paper that meets the 30 percent requirement.
Sustainable Forestry Initiative

The Sustainable Forestry Initiative (SFI) is the US-based PEFC-accredited forest management and chain-of-custody certification competing against FSC. It began as a second party certification program developed by the American Forest and Paper Association (AF&PA) and transitioned to a third party program in 2001. It officially incorporated as the Sustainable Forestry Initiative in 2007 (ÉEM, 2008). Though SFI is now overseen by an independent Sustainable Forestry Board, membership in the AF&PA is still required in its forest management and chain-of-custody standards.

Copy paper labeled with SFI's logo must meet its Requirements for Fiber Sourcing, Chain of Custody, and Product Labels. SFI certified papers may either be Percent Certified Content labeled or Fiber Sourcing labeled, but are not marked with unique tracking numbers.

Percent Certified Content labels include:

100% Certified Content, implying all fiber is sourced from SFI certified forests;
X% Certified Content, implying that a proportion of the fiber is sourced from SFI certified forests;
100% Recovered Fiber, implying that all the fiber is recycled but not necessarily PCW;
X% Recovered Fiber Claim, implying that a proportion of the fiber is recycled but not necessarily PCW; and
Volume Credit Label, implying that the portion of products that carry the label will be proportionate to the percentage of certified content in the entire inventory and considered as including 100% certified raw material.

Fiber sourcing labels may be used by primary and secondary producers, which include paper manufacturers. The standard that must be met for this certification is unclear. Producers must use an auditable system to characterize the forestry standards used for the raw material.

The Board of Directors manages the standard setting, fiber tracking, labeling and certification process. The standard development process has two thirds of its representation from academic, government and conservation organizations and the rest from the forest products industry; and it is subject to public review (Metafore, 2007). Throughout the development process the draft documents are available for comment on the SFI website. Upon board approval the completed standard is also made publicly available via the web.

SFI does not evaluate applicants as an organization. It requires an auditable monitoring system for chain of custody tracking. As of 2005, SFI has required third-party auditors accredited by ANSI-ASQ National Accreditation Board (ANAB) or in Canada, the Standards Council of Canada (SCC), to annually assess applicants and their facilities for permission to use the SFI label (Metafore, 2007).


Other Labels
Federal Trade Commission (FTC): Three Chasing Arrows

The three chasing arrows label does not represent a set of standardized environmental criteria. According to the FTC, the symbol can either mean that a product is recyclable or contains recycled content. The FTC requires that either claim be clarified on the packaging and if a recycled content claim is being made that the label should disclose the percentage of recycled content, however there is no verification of either type of claim.
Comprehensive Procurement Guidelines, EPA

Here, the EPA designates the required recovered fiber content levels for printing and writing paper. Copy paper that has at a minimum a 30 percent postconsumer fiber content, including some percentage recovered fiber content, meets CPG requirements. The EPA recommends that agencies take performance characteristics into consideration, based on Section 6002 of the Resource Conservation and Recovery Act and Executive Order 13423, when evaluating minimum recovered content levels. The guideline also provides resources to find suppliers of printing and writing paper containing recovered fiber content.