A successful paper program follows best practices for procurement, use, and disposal. Best practices include forming a team dedicated to the task, establishing baseline data, setting goals, adopting a policy, improving current behaviors, evaluating standards and specifications, and measuring and reporting progress. See Figure 2.
Form a Team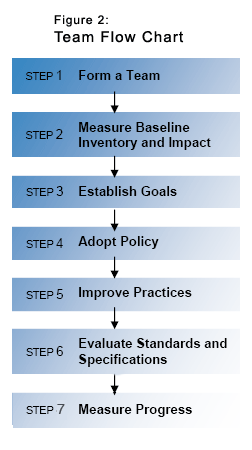 Dedicate a team to developing a green paper program. The team should include representatives from procurement, administrative support, waste management/recycling, and management. It should recommend and implement plans for paper procurement, use, reduction, and recycling or reuse, and measure the program's costs and benefits.
As a first step, the team should educate themselves on issues associated with paper purchasing, including misconceptions about environmentally preferable paper. This information will help the team determine strategies to address the use and procurement of paper and prepare them to respond to questions about new policies and procedures. See the Cost, Quality and Supply section for more information about the reliability of recycled-content copy paper.
Gather Baseline Data
Inventory the types and quantities of paper products currently purchased and consumed, calculating environmental and economic costs and benefits. For each product type record:
This data will help set priorities and goals for transitioning to environmentally preferable paper.

Use resources such as the Paper Calculator to establish the baseline impacts of current paper use. Compare current usage against other paper choices to project reduced impacts on wood use, energy use, greenhouse gas emissions, water use, and solid waste generation.
Set Goals
Using current baseline data, set ambitious but realistic goals for purchasing environmentally preferable paper and paper products. Design a plan of action, with a specific timetable, for meeting these goals. To maximize impact, the plan should begin by focusing on products consumed in large quantities and where environmentally preferable alternatives already exist. Set targets for:
See the Policies section for sample goals.
Adopt a Policy
Develop an organizational policy to formalize commitment to environmentally preferable paper practices and purchases. Communicate this policy to managers, staff, suppliers, customers, partners, and the public. For a model policy, See the Policies section below.
Improve Practices
Reduce costs and impacts with these strategies:
Increase Everyday Paper Efficiency
Use electronic signature software such as Docusign.
Print double-sided using copiers, printers, and fax machines with duplexing capability. See the Responsible Purchasing Guides for Computers and Office Electronics for detailed tips.
Rethink publication design (e.g., no title pages, no cover pages, no blank pages).
Choose the Right Paper
Work with Partners and Suppliers
Give preference to suppliers, manufacturers, and printing services that use preferable papers and green power at their facilities.
Get Staff Onboard
It is important to educate staff because paper use efficiency is directly tied to their behavior.
Close the Loop
Establish an office paper recycling program or policy, or improve upon an existing one, to increase the supply of recycled content pulp.
Evaluate Standards and Specifications
Once goals are set, aim to achieve them by drafting product specifications that meet needs. Don't start from scratch: reference existing environmental paper standards and draw from specifications used by other institutions. Read the Standards section for details on third-party environmental paper certifications and browse our sample Specifications for institutional buyers.
Track and Report Progress
Schedule and conduct regular progress reports. Identify and address obstacles that may be hindering success and adjust goals if necessary. Reward or recognize the stakeholders responsible for successes.
Use the Paper Calculator to measure improvements in units equivalent to cars taken off the road and trees saved. Report the organizational paper purchasing policy, goals, and achievements on organizational websites, press releases and in an annual sustainability reports. Raise awareness further by including paper attributes on all printed documents.
Related Documents
Environmental Paper Network: Pulp Tracking Form
Environmental Defense Fund: Annual Paper Supplier Evaluation Form

---